---
---
AD200 pocket flash has strong power with lightweight and great portability.
Easily packed in your pocket. With professional lithium battery pack and two
different flash head offer diverse light effects Built-in Godox 2.4G wireless
X system and fully support of TTL functions. With the AD200 pocket flash,
your shooting will become simper. You can easily achieve a correct flash
exposure even m complex light-changing environments.
Features:
great portability body, easily packed in your pocket.
Built-in Godox 2.4G wireless X system.
Optical and 2 4G wireless transmission to offer stable output.
When using Godox 2.4G wireless X system.
Wireless remote control and triggering.
Use Godox 2.4G wireless X system lo achieve TTL;
Control or use Godox TTL wireless flash trigger X1 to wirelessly control TTL functions,
wirelessly adjust flash's power levels.
With strong power, the speedlite flash head and bare bulb flash head offer diverse light effects.
AD200 has 2CX)Ws, GN 60 (m ISO 100, with AD-S2 standard reflector,
@28mm)and GN 52 (m ISO 100, @35mm) Stable color
temperature at 5600±200K over the entire power range.
Large-capacity lithium battery pack.
Professional lithium battery pack has large capacity (14.4V/2900mAh)
to provide 500 full power flashes and recycle in 0.01-2.1 second.
8 steps of power adjustment (1/1 to 1/128) offer better lights effects Fully
support flash exposure compensation.1/8000S high speed sync,
first-curtain sync, second-curtain sync, modeling lamp,
manual flash, multi flash. C Fn custom functions, etc.
AD200 adopts Godox mount with a senes of accessories e g. barn doors, color filters and diffuser, etc.
Specifications: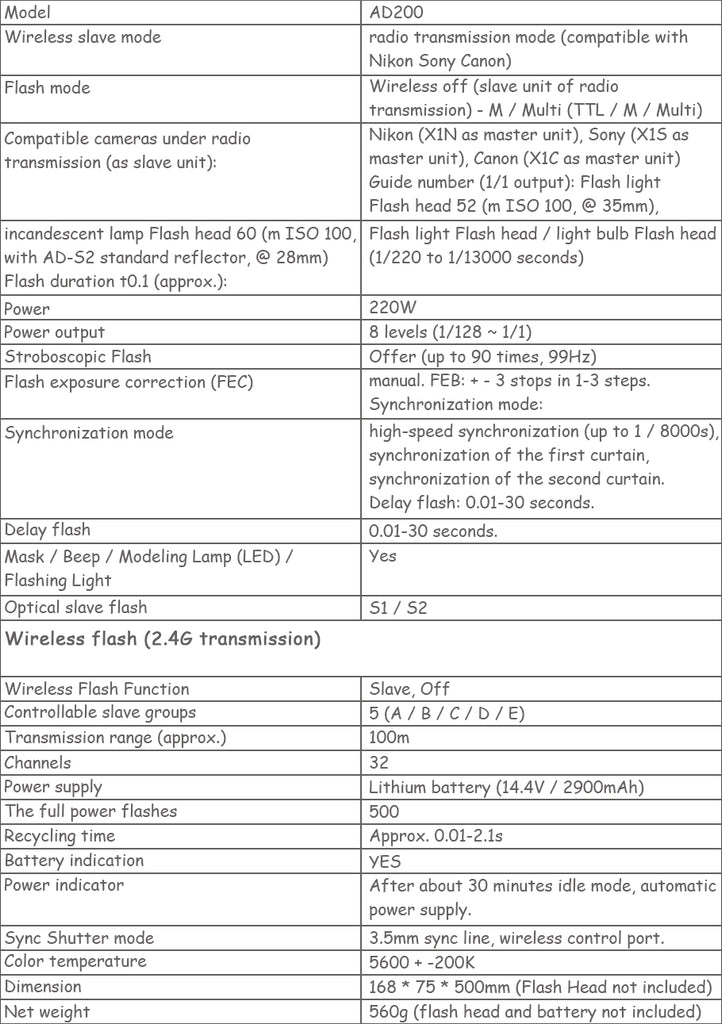 X1T-C TTL Wireless Transmitter for Canon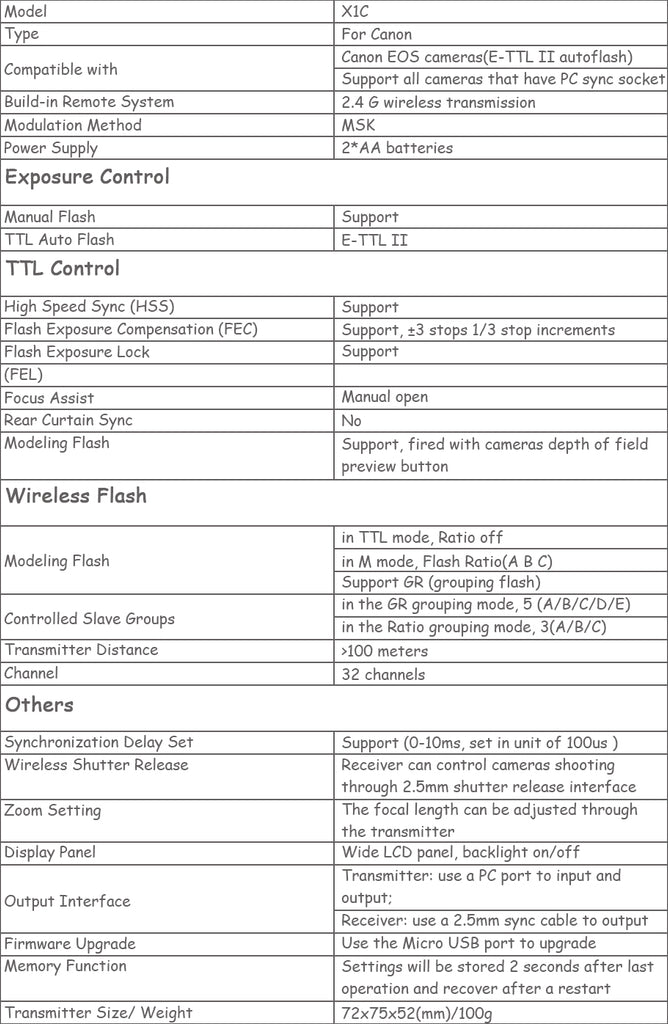 Godox AD-S2 Orginal Stardard Reflector
This Standard Reflector with Diffusion Filter Compatible with Godox Witstro AD-180 / AD-360 AD200 Flash Speedlite
- This kind of Honeycomb Grid fits for the Standard Reflector for Godox AD-180 AD-360 AD200 Flash Speedlite, to make the light source be more directional.
Godox Color Filter Honeycomb Grid Cover Kit AD-S11
 Features:
- Four colors in a pack to color light for the background.
- Easily and fast attached to standard reflector by using a black retaining ring.
- Limits light spread and provides sharper shadows.
- Compatible with Godox WITSTRO Powerful Flash AD-180 AD-360 AD-360II AD200
Specifications:
- Color Filters Size: Ø120mm
- Color Filters Weight: 120g
- Grid Size: Ø116mm
- Grid Weight: 20g
Godox S-Type Bracket Bowens S Mount Holder Fit Speedlite Flash Umbrella Softbox
 Specifications:
- Model: S-type
- Structure: Compressed and flat structure takes up little space.
- Mounting Method: peedlite body is hold and fixed by a big mount, which provides a stable and secure support.
- Installation: No pre-assembly and post-disassembly.
- Functions: With Bowens-mount, Speed ring, Umbrella input, Direction-adjustable handle, Horizontally-movable ability.
- Material: Durable plastics
- Dimension (L x W x H): Approx. 15×5.5×22cm
- Weight: Approx. 410g
Godox AD-S15 Flash Lamp Tube Bulb Protector Cover For WITSTRO AD180 AD360 AD200
Specification:
Material: Metal
Color: Silver
Weight: 30g
Compatible for AD200 AD180  AD360 Speedlite
Godox Adjustable Studio Photo Light Flash Softbox 40x40 cm without S-Type Bracket
 - Size: 40x40cm(outer size)
    - Light Weight & easy to set up
    - Provides Greater Light that is very even
    - No Hot Spots or Concentric Circles
    - Silver reflective internal face and Black back side
    - Outer and inner soft diffuser included
    - Best for S,L,T type speedlite mount holder
Package Including:
1X AD200 Flash Body
1X Bare bulb flash head
1X Speedlite flash head
1x Bare bulb
1x li-ion Battery
1x battery power cable
1x Carrying case
1X flash holder
1X Godox AD-S2 Reflector
1X Color Filter Honeycomb Grid Cover Kit AD-S11
1XGodox AD-S15 Flash Lamp Tube Bulb Protector Cover For WITSTRO AD180 AD360 AD200
1XGodox S-Type Bracket Bowens S Mount Holder Fit Speedlite Flash Umbrella Softbox
1XGodox Flash Softbox 40x40 cm without S-Type Bracket
1 X1T-C Transmitter For Canon
---