---
---
Product Description
The Accent B7c is an RGBWW color mixing LED light bulb, and is the first product in Aputure's new Accent line of practical LED fixtures. Using the same color mixing technology as the Nova P300c, the B7c boasts the same 2,000K-10,000K color temperature, and professional level color reproduction, with the ability to achieve an SSI score as high as 85 in tungsten. The B7c utilizes a mere 7W LED output to create a 50W household tungsten light bulb equivalent. The Accent B7c is the first color mixing smart bulb to utilize a built-in battery, allowing it to run for over 70 minutes at maximum output, making it suitable for an immense number of use cases. To enhance the on-set workflow efficiency, the B7c is also the first smart bulb to include on-board control buttons, making toggling between CCT presets and adjusting brightness incredibly simple. AndwithSidus Link Bluetooth App compatibility, users can easily control multiple B7c bulbs from a smartphone or iPad, and unlock the B7c's fine-tunable color capabilities.
More Practical
The Accent B7c is a battery-operated 7W RGBWW color-mixing LED light bulb, and the first product in Aputure's Accent family of "practical" LED lights built for filmmakers, with a unique combination of features no other light has.
Your Favorite Lamp
The B7c features a standard E26/27 lamp socket screw connector making it compatible with a wide variety of lamps anywhere in the world. Its light bulb form factor allows users to more naturally integrate programmable, color-mixing, practical lighting into any scene.
Match Any Light
The Accent B7c matches the color temperature range of the Nova P300c, Aputure's most advanced color mixing light, producing a wide color temperature range of 2,000K-10,000K. And when combined with Sidus Link's SourceMatch feature, it can match nearly any white light source.
Pristine Quality You Can Trust
Unlike typical household LED bulbs, the Accent B7c uses cinema-grade LEDs to reproduce immaculate skin tones -- with impeccable CRI and TLCI values of 95+, and a tungsten SSI score of 85, outpacing industry-standard lights.
Color Tunability
Utilizing Aputure's unique RGBWW LED configuration, the B7c bulb is able to produce over 90% of the saturated colors in the Rec.2020 color space, putting it on par with industry-standard lighting instruments.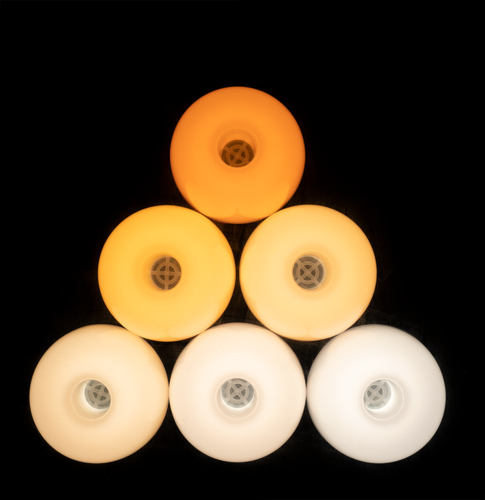 Flicker-Free Filmmaking
The Accent B7c like all Aputure products is made with filmmakers in mind. Unlike consumer LED smart bulbs, the B7c features 20KHz stepless dimming that remains completely flicker-free up to at least 1,000fps with no color shift.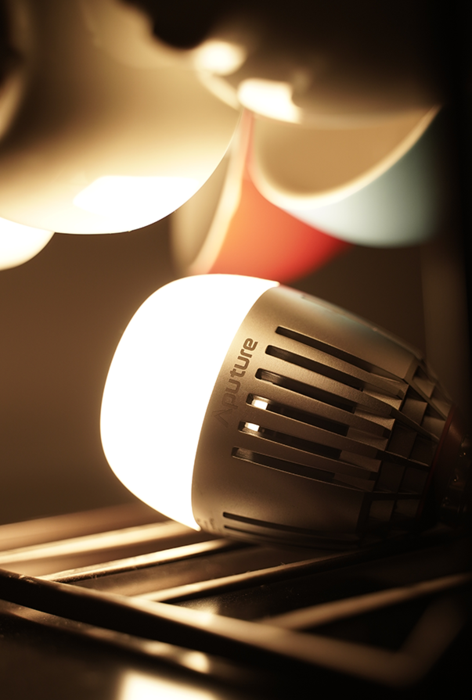 Built-in Battery
The B7c is also the first bulb designed for filmmakers to have a built-in battery, powering the B7c for over 70 minutes at full power, and over 20 hours as it approaches minimum brightness.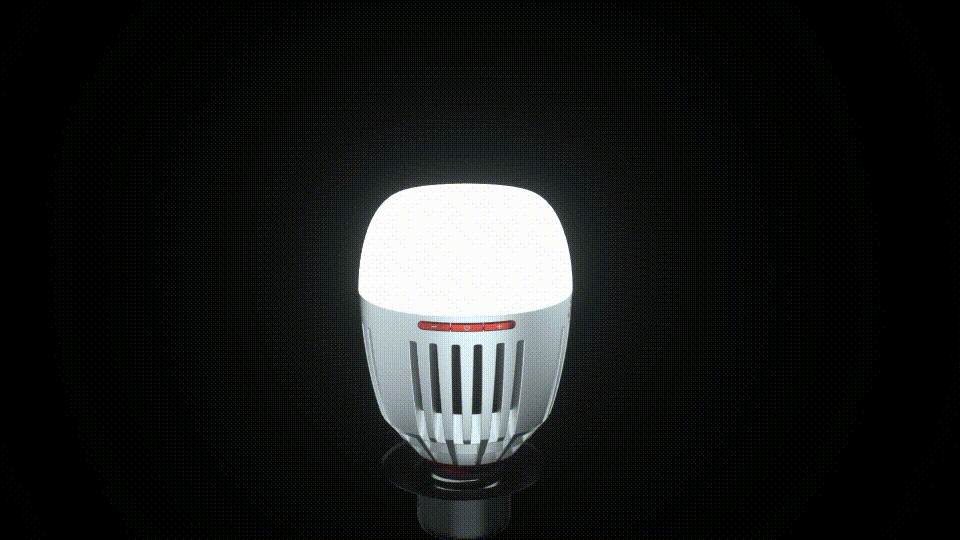 AC/DC Mode
The B7c's unique internal battery allows the B7c to have multiple power supply modes: AC & Battery (DC). In AC power mode the B7c retains its last settings and turns on and off like a traditional light bulb, allowing for natural interactions with actors.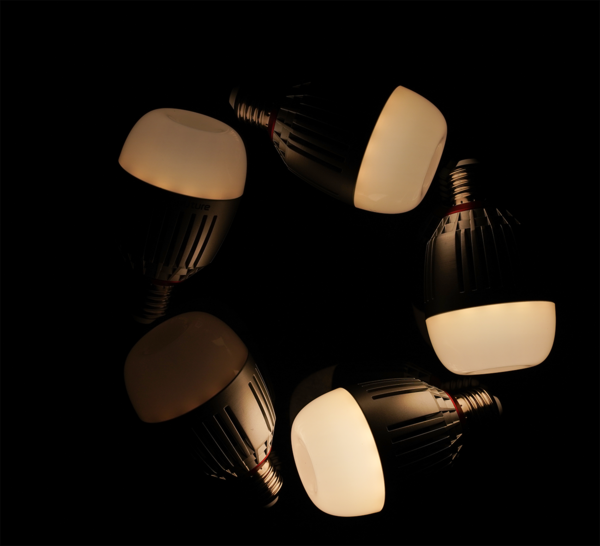 Premium Construction
Using an aluminum metal structure and a unique toroidal diffusion design, the B7c spreads lights evenly while also maintaining absolute stealth on-camera.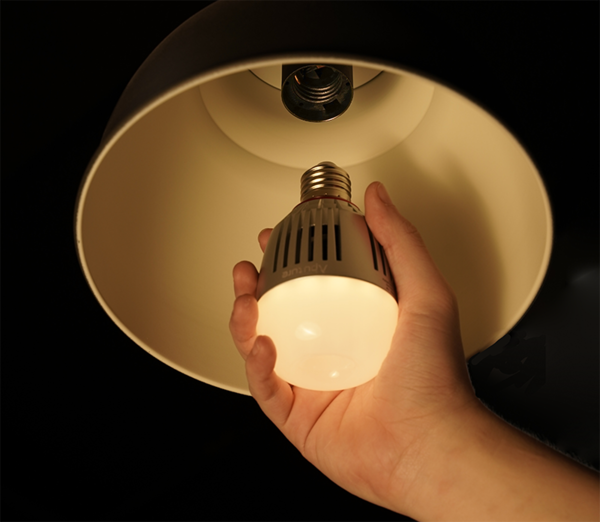 On-board Controls
The Accent B7c is the only LED smart bulb to feature on-board buttons for both brightness and CCT control, allowing users to adjust intensity and CCT presets in a few simple clicks, without even connecting it to the Sidus Link app.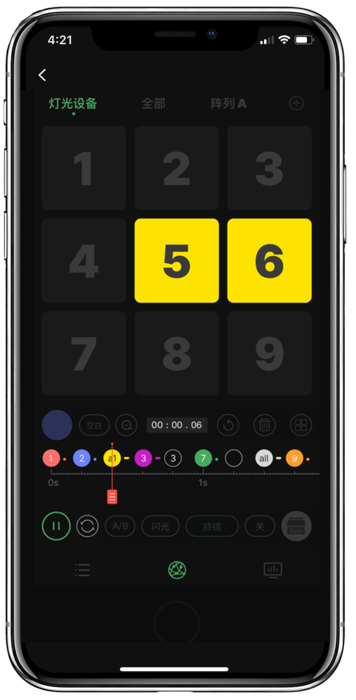 Sidus Link
Using built-in Sidus Mesh technology, the B7c can also be controlled wirelessly via a smartphone or iPad using the Sidus Link app, allowing filmmakers to fine-tune CCT, brightness, color, and FX, as well as use SourceMatch and ColorPicker modes to match nearly any color.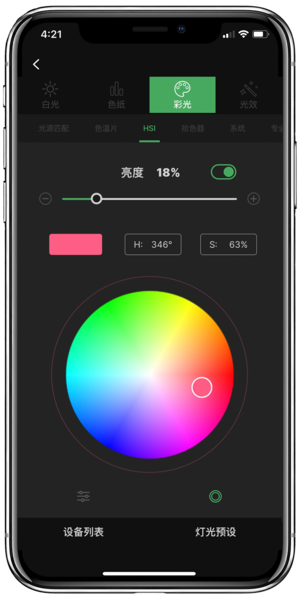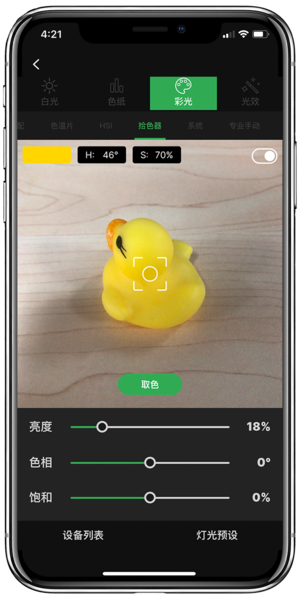 SidusPro FX
Through Sidus Link, the Accent B7c has access to built-in lighting FX, as well as SidusProTM FX such as PickerFX, Manual FX, and Magic Program, producing an ecosystem that allows creatives to design a myriad of unique programmable FX.


FEATURES

7W RGBWW LED Smart Bulb
Standard E26/E27 Light Bulb Socket
Built-in Lithium-polymer Battery (70+ min. @ Max)
Fully Tunable CCT from 2,000K to 10,000K
Average CRI 95+, TLCI 96+
SSI (Tungsten): 85, SSI (D55): 74
RGB Color Tunability with Hue, Saturation & Intensity
Covers >90% of the Colors Within Rec.2020 Color Space
Stepless Dimming from 0-100% with No Color Shift
9 Built-in Lighting FX: Paparazzi, Fireworks, Faulty Bulb, Lightning, TV, Party, Pulsing, Cop Car, and Fire. Only
Smart Bulb with On-board Button Controls
Sidus Link App Compatible, Firmware Upgradeable
Wireless Bluetooth Control up to 80m
Two Power Supply Modes: Standard/AC Mode,, Battery/DC Mode
Passively-cooled Aluminum-alloy Heatsink
SPECIFICATION
Color Temperature 2,000K-10,000K
CRI 95+ (2,500-10,000K)
TLCI 96+ (2,500-10,000K)
CQS 95+
SSI (Tungsten) 85
SSI (D55) 74
Lumens 570
Lamp Socket Type E26/E27
Control Methods On-board Controls, Sidus Link App
Wireless Connectivity Bluetooth Mesh
Operating Voltage 100V~240V
Operating Current 0.12A
Maximum LED Output 7W
Maximum Power Draw 9W
Operating Temperature -10-40℃
Lithium-polymer Battery 1300mAh 7.4V
Operating Battery Life
Max Brightness Min. Brightness
70+ minutes 20+ hours
Charging Time 2h (Standby mode or powered off)
Cooling Method Passive Cooling
Product Dimensions φ70mm*118mm/φ2.75*4.64in
Weight 240g/0.529lb
PACKAGE CONTENT

1* B7C Bulb
1* Bag
1* Box
1* Manual
---